While businesses have increasingly focused online, they still often need printed brochures and other collateral.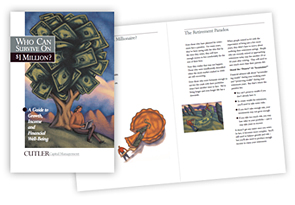 Our brochure for Cutler Capital Management presented a special challenge. How do you get a potential client interested in reading about convertible securities?
First, we titled the brochure, "Who Can Survive On $1 Million?" While it is common knowledge that $1 million is no longer enough to support most of us through our retirement years, few people have discussed this fact.
Next, we novelized the brochure, telling the story of a moderately successful couple and their dilemma in preparing for retirement. They recognize the need to earn more on their investments – but they don't want to risk losing their retirement savings.
In between, we discuss "The Retirement Paradox" and set up the idea of investing in growth for good times and income for bad times. Convertible securities are finally mentioned on page 10 of the 16-page brochure.
Other brochures:
Next: Advertising